This summer, colors of the East are radiating in the West! The vibrant trend of Peshawari Chappal for women, originated from the mountains of Pakistan, is your go-to footwear and the latest Eastern summer fashion fusion. Initially, Peshawari Chappals were a standard footwear for men in the Northern areas of Pakistan and were a fashion trademark for tribal and feudal landlords. However, the city girls of Pakistan chose to put a spin on the popular shoe trend and add some girl power to a fashion trademark that took the East's fashion industry by storm!
RELATED: Take A Step In These Spring Shoes
Whoever claimed that comfortable shoes could never look good clearly missed out on this Eastern trend. Peshawari Chappals are semi-closed sandals securing the back with a buckled strap. Traditionally, they are made of pure leather with tyre-material soles allowing the footwear to be highly durable and cushioning the feet. The intricate designs skillfully painted on top of the shoe not only catches the eye with its vibrant patterns but can be paired with the simplest of outfits adding a flair of tradition from the East.
How To Flaunt Them: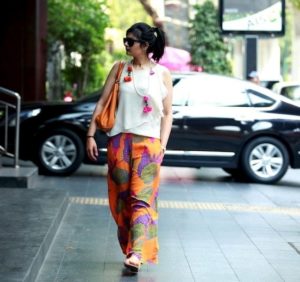 #1. Faded jeans and a basic white t-shirt are a blessing when it comes to Monday mornings; what should your first choice be for shoes, those vibrant Peshawari Chappals calling at you! Not only will it add color to the outfit but the attention will be exactly where all us shoe-lovers want it to be, directed at our shoes!
#2. Summer brunches always tend to be tricky, you never know when the rain showers will hit and your heels would betray you! Never fear though, a printed cocktail dress with a bold colored pair of Peshawari  Chappals will not only be your savior in rainy conditions
but will let you go easy on your feet while out for a relaxing
brunch with their cushioning soles.
#3. What can be comfier than palazzos and a flowy shirt on a casual day while out running errands? Ladies, just because you have to play it simple doesn't mean you can't add a bit of spice to your outfits. Keep your outfit plain and simple with an art statement by wearing the intricately designed Peshawari Chappals that will sneakily be popping out!