Do you ever have salty or sweet cravings but you don't want to break your health streak by eating an unhealthy snack? Well, there are ways to snack without ruining your healthy lifestyle while simultaneously fulfilling your cravings. Here are some snack hacks that will leave you feeling as if you cheated on your health resolution … except you didn't!
RELATED: Get Results By Eating For Your Body Type
Kale Chips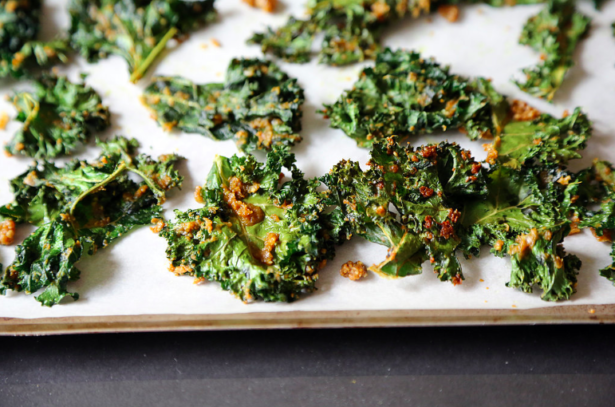 I think we can all agree that when we have a salty craving we immediately think of eating some salty, crispy potato chips. If you do not think that way then I envy you. Of course, you can ditch the unhealthy factor of potato chips and, instead, use the potato's popular cousin: the sweet potato. However, for those that want to ditch the starches and sugars it would be more for your benefit to try out kale chips. You could check your local drugstores and grocery stores and actually purchase ready-made kale chips but, for a more natural and inexpensive option, you can also make them at home. It is pretty easy to make kale chips by yourself, all you need is 1 bunch of kale, 2 teaspoons of olive oil, and salt (plus other seasonings if you wish). First, preheat the oven to 300 degrees Fahrenheit and wash the kale thoroughly. For this recipe to be successful, you must make sure that the kale is properly dried and there is absolutely no moisture left in the leaves. Rip the kale apart into smaller pieces and eliminate the stems then set the chips out on a baking tray. Next, thoroughly drizzle the olive oil onto the kale and rub the oil into the leaves with your fingers. Sprinkle your salt and seasonings on the chips and bake them for 10 minutes. Take the chips out and flip them on their other side and bake for another 10-15 minutes or until the chips are crispy. Let the chips sit for about 5 minutes before eating them and then dig in!
RELATED: 5 Reasons To Eat More Greens
Oatmeal Cookies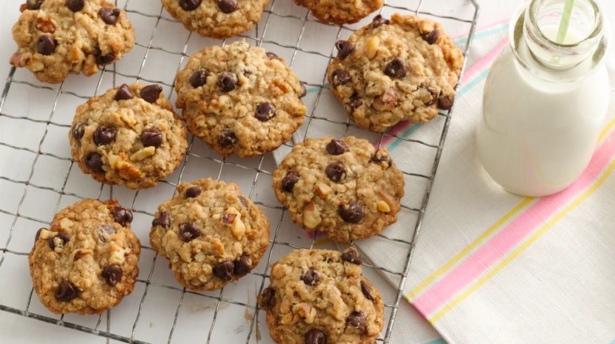 Cookies are definitely a crowd pleaser so if we can find a healthy substitute for cookies then why not give it a shot? These oatmeal cookies are amazing because they do not use flour or sugar and use very natural ingredients. You will need 2 cups of oats, 1 banana, olive oil (to oil the baking tray), a pinch of baking powder, your preferred spices, berries, chocolate chips, or anything that you may wish to add to your snack. Preheat the oven to 350 degrees Fahrenheit and mash up your banana. Once you have mashed your banana, add it to the oats and mix your batter. Add a pinch of baking powder so that the cookies will rise. You can add spices, chia seeds, flax seeds, berries or anything that you think would enhance your cookies (I personally enjoy cinnamon and blueberries in my cookies). Once you have created your mixture, use an ice-cream scooper or a tablespoon and scoop out moulds to shape onto an oiled baking tray. Bake the cookies for about 15 minutes or until they are golden brown. Once you are satisfied with your snack, let them cool for 5 minutes and eat up!
Baked Avocado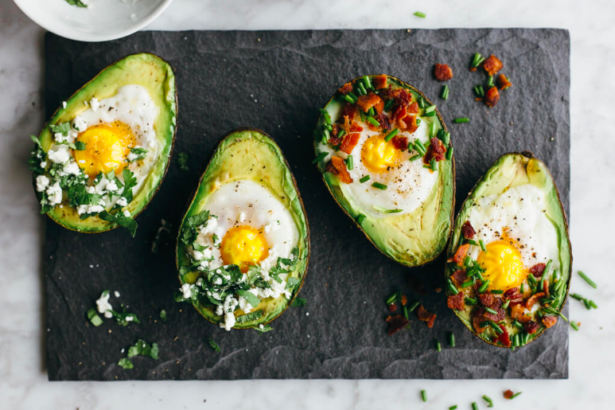 Avocado's are so versatile and can be transformed in many different recipes. However, today we are going to delve into the realm of potatoes… well, we are going to copy potatoes. Of course I cannot sit here and tell you that eating a baked avocado is the same as eating a baked potato because that is not true. However, the texture of a baked avocado is similar to the baked potato, but it just a tad more rich and creamy and who is complaining about that? You will need 1 avocado, 2 eggs (optional), 1 teaspoon of your preferred sauce, and your selected spices. First, preheat the oven to 450 degrees Fahrenheit. Then, cut an avocado in 2 pieces and take out the pit so there is a hollow hole in both sides. You can be creative with this and crack an egg in each hole (as shown above) or, if you are not feeling eggs, you can spread a bit your favourite sauce on top and sprinkle some spices and some crumbled almonds or peanuts on top. Bake the avocados in the oven for 15-20 minutes until you are happy with the consistency of the avocado, let it cool down, and enjoy!
Cashew-Milk Ice Pops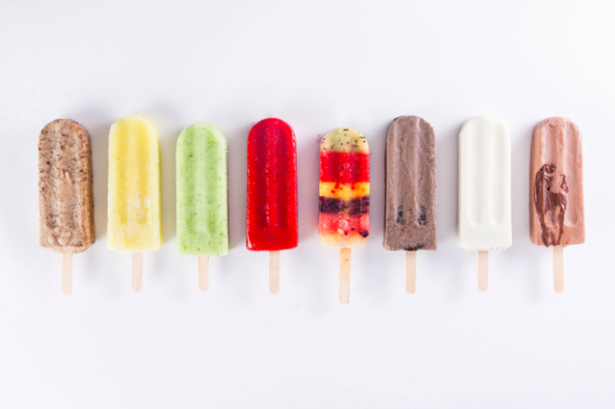 We all crave something sweet once in a while…, especially during those hot and humid summer months. But what if you are trying to stay away from dairy or even just sugar? You can try a cool snack that eliminates both of those ingredients by making cashew-milk ice-pops at home. You can use whatever ice-pop moulds you have available (they are also easy to find in grocery stores). In the worst case scenario, you can always use an ice-cube tray and insert popsicle sticks inside the moulds. You will need 1 cup of unsweetened vanilla cashew milk (or any nut milk that you enjoy) as well as 2 tablespoons of unsweetened syrups and berries (optional). First, use the unsweetened vanilla cashew (or almond/coconut) milk as a "dairy" base. Next, add the unsweetened syrup for flavour. Personally, my favourite brand is Jordan's Skinny Syrups because they taste amazing and they have a variety of dessert-like flavours. Mix about 2 to 3 tablespoons of the unsweetened syrup with about 1 cup of cashew milk and pour the mixture into the moulds, freeze until solid, and enjoy your cool treat! You can add berries and fruits in the mixture too to add some extra flavours and textures!
RELATED: How To STOP Emotional Eating And Finally Get Fit
It is great to try to eat healthy snacks and change your lifestyle for the better (especially because of such delicious recipes that people are creating using healthy foods) but, remember, no body is perfect and if you slip up once in a while and eat an unhealthy snack it is okay. Tomorrow is always a new day and you will be able to get back on track so do not give yourself a hard time if you make a mistake. Making an effort is already a step towards success!