Winter is here and you must be all set to enjoy it with warm clothes. We never mind spending a few bucks extra to buy the beautiful long jackets, coats, sweaters, scarves etc. But when it comes to buying sleep wears, most of us tend to become a little too strict with our budget.
Looking beautiful should not come with conditions. It is a good thing to look presentable at all times, whether you are at home and ready to go to bed or out for a party. Here is a list of the top 12 winter sleep wears that will blow any girl's mind.
1. Pajama Set with Long Sleeves
Pajama sets come with a top and a matching pair of pants. If you are too sensitive for the winters and love keeping yourself warm; go for the pajama sets that come with long sleeves.  
2.  Short Sleeve Top and Boxer Set
Markets are filled with cute short sleeves tops matched with a pair of boxers. These sets complement girls of any age group or body type.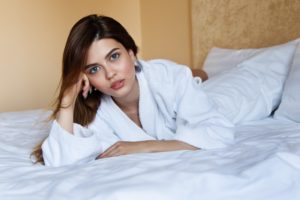 3. Robe
Robes are evergreen and come in a wide variety of sexy designs. Piping, lace and cute prints make these robes a must have sleepwear for you during the winter.  
SHOP: Runway Ready PJ Sets
4. Romper
The romper is super sexy and will give you a perfect look anytime anywhere. With their trendy designs and prints, rompers have been ruling the market for the last few years.
5. Three Piece Pajama Set
The three piece pajama set comes with a comfortable cami matched with a pair of matching pants. The look is given a perfect finish with a front open robe. This is the perfect outfit to keep your body warm and still not feel overloaded with clothing.
6. Seamless Sleepwear
Seamless sleepwear is a big hit in the lingerie market. Getting your desired one will not be difficult considering the availability of options. 
SHOP: Sleepwear From Italy
7. Tap Shorts
Tap shorts are super hot and will complement any body type. It can be worn with a sexy cami or a cute little top to get the perfect look.  
8. Comfortable Wide Leg Pant
Wide leg pants are also trending the sleepwear and lingerie markets.
9. Sleep Dress
Sleep dresses come in a wide variety of designs and materials to choose from. Whether you prefer the knee length cute dresses or the longer ones, you will never run out of options. The cute prints on these comfortable dresses will surely make any girl look prettier.
10. Slip
Slips with beautiful prints over it are also one of the favourite winter sleep wears for women. It can be worn with a pair of matching shorts or pajamas.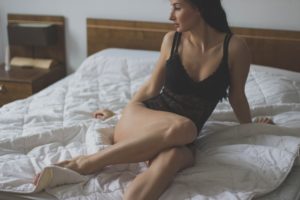 RELATED: Must Have Plus Size Lingerie
11. Babydoll
Men find babydolls sexy and wearing one will surely rock your nights. Be choosy and pick colours that your partner loves. Make sure you check with all the available designs and get the best ones for yourself.
12. Lacy Camisole and Shorts
Lacy camisoles matched with sexy shorts having a lacy finish will also give you the perfect look to drive your man crazy during winters.
It is time to say goodbye to your old pajamas and mis-matching tops. Seamless sleepwear, lacy babydolls, and sexy tap shorts are rocking the market. Welcome Valentine's Day with some good investments on a few pairs of beautiful looking winter sleep wears. Fall in love with them every time you wear them. Enjoy the winter in a more stylish way. 
Susan Harris is a creative writer by profession and hobby, currently working as a freelance writer. She aspires to help her readers achieve their best style by sharing personal tips learned through both years of experience and thorough research.